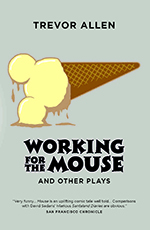 WORKING FOR THE MOUSE
by Trevor Allen
$20 at  Amazon.com
Ever wonder what really goes on at the Happiest Place on Earth? Working for the Mouse, Trevor Allen's award winning, critically acclaimed solo show chronicling the life of a costumed character, answers this and other burning questions like, "Is it hot in there?", "Where do you see out of?" and "What kind of underwear does Mickey wear under there?" Allen recounts his tales of backstage debauchery, militant managers and his quirky coworkers in this unique coming-of-age tale that blows pixie dust in your eyes while offering a glimpse behind the ears of the Magic Kingdom.
Along with Working For the Mouse, this volume contains scripts for 4 more plays by Trevor Allen, including The Creature, Lolita Roadtrip, Tender in in the Fog and Chain Reactions.
"Very funny… Mouse is an uplifting comic tale well told… Comparisons with David Dedaris' hilarious Santaland Diaries are obvious." San Francisco Chronicle
"Hilarious… touching… perfectly wonderful… Even Walt would have laughed." — San Jose Mercury News
"Amusing, skillful, and contagiously warmheared… You may not believe your ears (or Pluto's) on this un official guided tour behind the scenes." SF Bay Guardian
"Facinating… Infectious… He's got more than a majic bag full of fun anecdotes, and the charisma of Peter Pan to pull off telling them." — SF Weekly
"Vivid… Touching… Allen shares his Disneyland experience with warmth, style and tremendous humor." East Bay Express