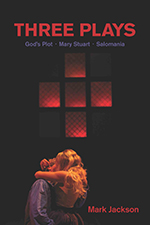 THREE PLAYS by Mark Jackson $16.00 retail (paperback), available at Small Press Distribution (www.spdbooks.org) and Amazon.com.  (Wholesale available through Small Press Distribution Pubnet SAN #106-6617)
THREE PLAYS is the second published collection of plays by award winning playwright, director and performer Mark Jackson, whose work has been seen on both US coasts, in the UK and Germany. The plays collected here are each based on incredible historic events:
God's Plot illuminates a little-known chapter of American history, a 1665 case in which three American colonists were sued for blasphemy by a fourth for having performed a political satire in their local tavern.
Mary Stuart is an adaptation of Friedrich Schiller's dramatic reimagining of the final showdown between Queen Elizabeth and Mary, Queen of Scots.
Salomania depicts the sensational 1918 libel case of dancer Maud Allan verses British MP Noel Pemberton-Billing, in which the former sued the latter for having accused her of being a lesbian, sadist, and German sympathizer as evidenced by her having performed in a production of Oscar Wilde's Salome.
THREE PLAYS also includes notes on the plays by the author, and a foreword by Patrick Dooley, artistic director of The Shotgun Players.
"God's Plot is a complex yet seemingly effortless hybrid. Nods to Shakespeare and pokes at theatrical process comfortably mingle with critiques of Puritan society and allusions to today's moral conundrums. It's a largely comic evening of serious ideas… An adventuresome delight." – VARIETY
"Mark Jackson's radical adaptation [of Mary Stuart] is stark, direct and unornamented, and as cruel as a conspirator's smile. Jackson has stripped more than an hour, maybe a dozen characters and a lot of romanticism from Schiller's overstuffed text… The essence of the broader stakes remains, with sharper currency, in the riveting verbal duels, plots and jockeying for power." – SAN FRANCISCO CHRONICLE
"Salomania, written and directed by Mark Jackson, is a spectacular play in all senses of the word. Reeling between the trenches of World War I and an uproarious courtroom drama as funny as it is disturbing, it spins out a staggering constellation of questions relating theater and war, art and politics, beauty and brutality… Fantastically entertaining throughout and studded with scenes of profound relevance and philosophical weight, Salomania is a brilliant play as substantial as it is well composed." – SFAPPEAL.COM