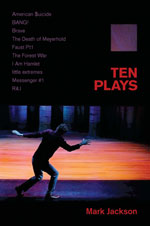 TEN PLAYS by Mark Jackson $19.95 (paperback), individual plays $2.99 in Kindle e-book editions at Amazon.com (wholesale orders at CreateSpace.com)
TEN PLAYS by Mark Jackson is the first published collection of plays by award winning playwright, director and performer Mark Jackson. Jackson's highly theatrical plays defy easy categorization, ranging in form and subject matter from grotesque comedies about contemporary pop culture to epic melodramas about ancient themes of love and war. Jackson's work has been seen on both US coasts, in the UK and Germany.
This collection includes American $uicide, BANG!, Brave, The Death of Meyerhold, Faust Pt1, The Forest War, I Am Hamlet, little extremes, Messenger #1 and R&J, with notes by the author and a foreword by critic Rob Avila.
"From reimagined Shakespearean classics (R&J, I Am Hamlet) to Jackson's breakout hit The Death of Meyerhold, the bleakly comedic American $uicide, and the stirring Kurosawa-esque epic The Forest War, what these plays have in common is an audacious commitment to the illimitable possibilities of live theater" — Nicole Gluckstern, SF Bay Guardian