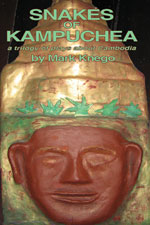 SNAKES OF KAMPUCHEA by Mark Knego a trilogy of symbolic dramas about Cambodia $14.00 (paperback), $2.99 Kindle e-book edition at Amazon.com and at Small Press Distribution (wholesale distribution through Small Press Distribution Pubnet SAN #106-6617)
SNAKES OF KAMPUCHEA Near a Cambodian farming village a forest teems with nature spirits, retaining a harmony. The vicious Khmer Rouge take over the village, and "the crocodile cannot control the waters of the lake"; as refugees of the Khmer Rouge genocide flee to the West.
TUAL KAN'S JOURNEY A single Cambodian mother in San Francisco's Tenderloin district wrestles with flashbacks, contends with her rebellious daughter, and relives the magical nature of her pre-refugee village life in this symbolic piece of grief, goddesses, birds and a magic fish.
RETURN TO ANGKOR A young Cambodian American woman returns to her ancestral village to search for her long separated sister; yet everything has changed. The vow she makes in the finale, about the individual responsibility of shared history and collective memory, caps the trilogy.