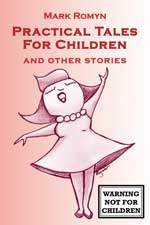 PRACTICAL TALES FOR CHILDREN and other stories by Mark Romyn $9.95 (paperback) at Small Press Distribution and Amazon.com (wholesale distribution through Small Press Distribution Pubnet SAN #106-6617). Also available in a Kindle edition for $2.99.
There's no one better at taking a reader to horror and no one better at making them giggle while there than Mark Romyn. He mischievously leaps into the arms of the living dead. He dares to tell any creepy truth, and even the faint of heart become liberated reading his chilling descriptions of our absurd world and then grateful for the way he has made us laugh. It's difficult to feel any pain while riding his stories' wave of tasty, sex-spoofed fancy. Even his most fanciful entertaining stories pack an insightful whack. Many writers tackle death, memory, conformity, stupidity, but not many with such humorous irreverence. Romyn's stories are your friends. Good friends who don't lie. They outline the grotesque life trap, but they'll reach out to hold your hand, give a squeeze, and then a welcomed, witty wink. In his wild sci-fi, in his hilarious horror, you will find no superficial tonic. You will find his stories as difficult as life and thankfully, wickedly funny.
ABOUT THE AUTHOR
Mark Romyn is an actor, playwright and comedian born and raised in San Francisco and educated by the city's public schools and San Francisco State University. He has worked as a barista, bartender, and file clerk and currently is a records clerk at the United States District Court. He has written countless short stories, many published in local zines and online magazines, and performs at EXIT Theatre's Thursday Night Combo, the San Francisco variety show that he has hosted since 2004. His novella "Flyscaper" was published in 1996 by Permeable Press. His new apocalyptic novella "Tired of Waiting" will be published soon by EXIT Press.