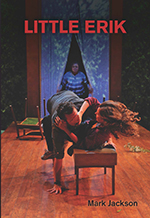 LITTLE ERIK
by Mark Jackson
$13 at Amazon.com
On a weekend getaway to the new summer home Joie and Freddie have built in the mountains north of San Francisco, their disabled son, Erik, is lured into the river by a mysterious Rat Wife and drowns. Freddie's sister, Andi, arrives with news of a shocking family secret, and Andi's hopeful suitor, Bernie, is as surprised as anybody when everything turns upside down – including San Francisco itself. Freely adapted from Ibsen's Little Eyolf, this new play grapples with marriage, family, class, nature, technology, and how our expectations can derail our deepest hopes and wishes.
"A savage and free-wheeling adaption… Ibsen was a master at giving his supposedly respectable audiences a taste of their own trash, and Jackson has the same nasty impulse here to skewer the bourgeoisie on the corpses of heir children." — KQED.ORG
"Unsettling yet absorbing,.. Little Erik is concerned with cold truths, amnd Jackson keeps them coming, right up to the play's seismic coda." — San Francisco Examiner
"Jackson's work is invariably characterized by his respect for and understanding of the universal nature of human emotion, regardless of location or century, as well as an intensely verbal style of playwrighting and often agressively physical staging." — San Francisco Bay Guardian
Mark Jackson is a playwright, director, and performer based in San Francisco, USA. His work has been seen on both US coasts, as well as in Germany, the UK, and Japan.