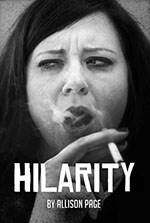 HILARITY
by Allison Page
$12 at Amazon.com
HILARITY is a play about a girl named Cyd. She's not so nice. She's not so sober. She's not so happy. But she is funny.
Cyd is a comic on the edge of destruction. Liz is the only person keeping her frompickling herself to death. She has an agent who's afraid of confrontation. She has a mother who likes men on motorcycles. She has a mattress in the middle of the room, and that's it. Maybe she'll turn it all around, or maybe her drunken lies, hungover manipulations and impulsive violence will finally bury her. Does it matter if you're good at something, if you don't know how to be a person?
ALLISON PAGE has written numerous plays, including Hellhound, An Historically False and Completely Imagined Lunch Date Between Misters Shakespeare and Marlowe at the Maiden's Head Pub For Aspiring Playwrights, Mrs. Youngblood, The Golden Apple of Discord, and April Showers. Born in rural northern Minnesota, she moved to San Francisco in 2008. In 2010 she joined up with sketch comedians Killing My Lobster, with whom she writes and performs. Her non-dramatic writing has been featured in Women of Letters, Shipwreck, Write Club SF, Give Me Fiction, Travel Tavern and other scattered places. She wrote and performed in the two person shows Wegent & Page, Wegent & Page Draw The Line, and Wegent & Page Give It Another Try which was produced as part of the 2010 San Francisco Fringe Festival. As a performer, she's appeared in everything from Prelude to a Kiss to Titus Andronicus and can be found in various theaters in San Francisco when she's not writing at her desk.