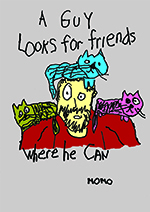 A GUY LOOKS FOR FRIENDS WHERE HE CAN
by Momo
$15 at Small Press Distribution (spdbooks.org) or Amazon.com (wholesale distribution through Small Press Distribution (Pubnet SAN#106-6617)
A Guy Looks for Friends Where He Can is MOMO's first book devoted to his lifelong entanglement with cats. This collection of drawings and sayings by and about cats is a testament to MOMO's belief that humor is the most effective form of rebellion. His cats, keen observers of the world around them, are — as one of them comments — an extraordinary mixture of saint and sybarite.
American outsider artist MOMO is a fixture of the San Francisco North Beach art scene where he has been creating poetry and art for decades. MOMO has been the subject of three videographers, including a series called "Double Shot of MoMo," all available on YouTube. His art can be seen on facebook.com/outsider.momo.
.