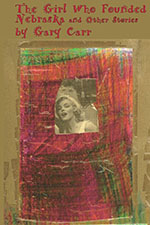 THE GIRL WHO FOUNDED NEBRASKA
and Other Stories
by Gary Carr
$14 at Small Press Distribution (www.spdbooks.org) and Amazon.com (wholesale distribution through Small Press Distribution Pubnet SAN #106-6617)
In these eleven short stories by Gary Carr we follow a biblical-era weapons merchant with good taste in food, meet the author's self-portrait in "Chekhovian action scene." And the wild and funny ride continues, with stops for the likes of Jesus and a homeless guy who sells paintings. But as the tales and bits swim by, we realize that, among the laughs, is a quirky sort of wisdom that makes the book one of those small treasures that you'll keep in the middle drawer of your desk.
Gary Carr is the author of The Left Side of Paradise: The Screenwriting of John Howard Lawson, one of the beleaguered "Hollywood Ten," published by UMI Press. He wrote the screenplay for the feature-length comedy, "Help Stamp Out Fairplay," produced by Clyce Productions. He has scripted award-winning films on astronomy, oil-well drilling, environmental protection, union organizing, heart pacemakers, cancer research, the Texas prison system, garbage collection, and art in society. Carr received his B.A. in English from Carleton College, M.A.in Creative Writing from Ohio University, and Ph.D. in Radio-TV-Film from The University of Texas at Austin. He taught at Ohio University, The University of Texas at Austin, and Texas Southern University. He lives in Clayton, California, with his wife, Kathy, and her service dog, Seila.