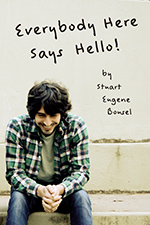 EVERYBODY HERE SAYS HELLO!
by Stuart Eugene Bousel
$12 at Small Press Distribution (spdbooks.org) or Amazon.com (wholesale distribution through Small Press Distribution Pubnet SAN #106-6617)
Winner Theatre Bay Area's 2014 Best New Script Award. In this award winning play by Stuart Eugene Bousel, Bryon is in love with Patrick. Patrick is in love with Rebecca. Rebecca is getting over Doug. Doug fathered a daughter with Esther. Esther is Rebecca's sister. And that's just the tip of the ice-berg. In the grand tradition of the Shakespearean comedy and the French sex farce, comes a fast-paced, post-modern romance about love, sex, friendship, and how our lives are perceived through the eyes of the people who claim to love us the most.
Stuart Eugene Bousel is Bay Area playwright and director whose work has been produced in New York, Dublin, Portland, Tucson, Melbourne, Seattle, and San Francisco. His play "Vincent of Gilagmesh" was a nominee for the 2001 MAC Award; his play "Mathew 33:6" was a finalist for the Sky Cooper Award in 2007; and his play "Wild Blue Peaks" was a finalist at HUMANA in 2002. He co-wrote the John C. Cosgrove Award winning short film "Insomnia" in 2000, and his play "Everybody Here Says Hello!" (produced by Wily West Productions) won the Theatre Bay Area Award for Outstanding World Premiere in 2014, and was nominated for Best Original Script by the Bay Area Critics Circle in 2015. He has three times had work featured in the Bay One Acts Festival: "Housebroken" in 2010, "Speak Roughly" in 2011, and "Brainkill" in 2012. He adapted the novel Giant Bones, by Peter S. Beagle, in 2010, and the memoir Rat Girl, by Kristin Hersh, in 2014 (also nominated for Outstanding World Premiere, TBA Awards). He is the recipient of the SF Weekly's "Ringmaster Award" in Best of the Bay 2013, and his other work includes penning the online short film "Wish U Were Here" for Hostelling International, the novel "Dry Country," and co-editing two collections of new work by Bay Area playwrights, "Songs of Hestia" (2012), and "Heavenly Bodies" (2014), both published by EXIT Press. Stuart is the Artistic Director of San Francisco Indie theater company, No Nude Men Productions, the Executive Director (and co-founder) of the San Francisco Theater Pub, the Executive Producer (and founder) of the San Francisco Olympians Festival, and the Director of New Work Development for Custom Made Theatre Company.