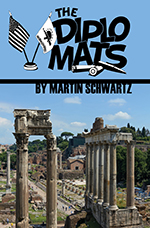 THE DIPLOMATS: A COMEDY
a play by Martin Schwartz
$11 at Amazon.com
In The Diplomats, a zany farce written by Martin Schwartz, a veteran of cultural diplomacy, the year is 2005. Somewhere in Central Asia, a quartet of hapless cultural attachés try and absurdly fail to put on a comic theatre festival with the collaboration of a hilariously corrupt local government. In the midst of a human rights disaster, the performers they've booked refuse to show, and the diplomats take matters into their own hands.
Martin Schwartz is a playwright, director, and cultural advocate. His original works Cockroach, Comedy Ballet, TUTOR, and StormStressenz have been performed by Dark Porch Theatre, of which he is co-artistic director, in San Francisco and Phoenix, winning awards including Best of San Francisco Fringe (2009, 2013) and the Phoenix New Times' 10 Best (2012). A graduate of University of California, San Diego, and the University of Chicago and a longtime cultural affairs specialist with the Swiss Department of Foreign Affairs, he lives with his wife in San Francisco.