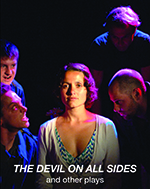 THE DEVIL ON ALL SIDES AND OTHER PLAYS
by Fabrice Melquiot
translated from the French play by Ben Yalom and Michelle Haner
$14 at Small Press Distribution (spdbooks.org) or Amazon.com (wholesale distribution through Small Press Distribution (Pubnet SAN#106-6617)
Named "Theatrical Discovery of the Year" by the French National Critics' Union, The Devil on All Sides is the play that brought Fabrice Melquiot to prominence as a playwright in France. Set in the war in ex-Yugoslavia, it tells the story of Lorko Ljević, a young Serbian man, his wife Elma, a Bosnian, and their family. As the world around them is torn apart, they struggle to maintain humanity and beauty in the midst of internecine violence and degradation. To tell this story, Melquiot shifts seamlessly between the magical and the real, the metaphoric and the concrete, the deeply personal and the universal.
The other two plays in the collection, The Unheard of World and Albatross, are fanciful fairy tales with delightful characters, both comic and tragic. And yet they are so much more than the standard 'family' fare encountered in American 'children's theater.' Both are thought-provoking pieces that deal with profound, complex issues such as death, love, dreams, memory, and the nature of existence. They delight audiences both young and old, offering experiences that can truly be shared by all.
Fabrice Melquiot is a playwright, poet, novelist and director. He began his career as an actor at the theatre de Millefontaines. The majority of his works are published by l'Arche in Paris, including The Devil on All Sides and Kids (2002), and more than 50 other plays. The Devil on All Sides was named "Theatrical Discovery of the Year" by the French National Critics' Union. In 2008 he received the Académie Française's Prix Théâtre for his collected works. Since 2012 Fabrice Melquiot has been director of Am Stam Gram in Geneva, an international center of theater for children and youth.
Translator Ben Yalom is the founder and Co-Artistic Director of foolsFURY Theater, and the FURY Factory festival of ensemble theater. He serves on the board of the Network of Ensemble Theaters.
Translator Michelle Haner is an American actress, director, teacher and translator who has worked extensively in both the US and Europe. She is a member of Ensemble Studio Theater-LS, Classical Theatre Lab and foolsFURY, where she heads the company's Contemporary French Plays Program.