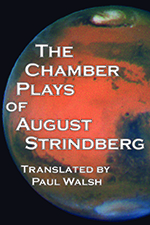 THE CHAMBER PLAYS OF AUGUST STRINDBERG translated by Paul Walsh. $20 at Small Press Distribution and Amazon.com (wholesale distribution through Small Press Distribution Pubnet SAN #106-6617)
New translations of the Strindberg chamber plays Storm, Burned House, The Ghost Sonata, The Pelican, and The Black Glove. August Strindberg began writing the chamber plays early in 1907 for a small theater in the center of Stockholm dedicated to his work. The theater would be called Intima Teatern (The Intimate Theater), and it would explore a new kind of drama for the new century. 
In his Open Letters to the Intimate Theater, Strindberg provides a memorable definition of a chamber play: "The name itself suggests its hidden program," Strindberg wrote: "The idea of chamber music brought into the drama: an intimate experience, a meaningful motif, a meticulous treatment. … No predetermined form should bind the author, for the motif should command the form. In other words: freedom of treatment, bound only by the unity of the conception and the tone." Here was a recipe for experiment. It embraced the possibilities of intimate revelations, unbound by conventional notions of dramatic form and structure, to provide the audience with an intimate experience and an experience of intimacy.
Paul Walsh (translator) is Professor of Dramaturgy and Dramatic Criticism at the Yale School of Drama. Prior to coming to Yale, Walsh taught theater history, dramaturgy and dramatic literature at the University of Massachusetts Amherst and at Southern Methodist University (Dallas). He served as senior dramaturg at San Francisco's American Conservatory Theater (A.C.T.) from 1996-2005, and as Artistic Director of the New Harmony Project, a new play development residency program in southern Indiana, from 2006-2012.
Walsh's translations of Ibsen's A Doll's House (2004), Master Builder (2006), and Hedda Gabler (2007) have been produced at A.C.T., Yale Repertory Theater, Williamstown Festival, People's Light and Theater, Aurora Theater, and by the Chesapeake Shakespeare Company, among others. His translation of August Strindberg's Creditors has been produced by A.C.T., Actors Theatre of Louisville, and Kitchen Dog Theater after premiering at the Classic Stage Company in New York in 1992. These translations of August Strindberg's Chamber Plays were produced in repertory by San Francisco's Cutting Ball Theater in the fall of 2012 as part of the international Strindberg year celebrating the 100th anniversary of the author's death.
Walsh has worked as dramaturg with theater companies across the country, including the Minneapolis-based Theatre de la Jeune Lune, with whom he collaborated on such award-winning project as Children of Paradise: Shooting a Dream, Don Juan Giovanni, Germinal and The Hunchback of Notre Dame. The version of Charles Dickens's A Christmas Carol that Walsh co-authored with A.C.T. artistic director Carey Perloff has played at A.C.T. since 2005.
After completing a master's degree in English literature at the University of Minnesota in 1978, Walsh received a guest fellowship from the Swedish Institute to study at the University of Uppsala in Sweden. He continued to live in Sweden for several years before enrolling in the doctoral program at the Graduate Centre for the Study of Drama at the University of Toronto, where he received a Ph.D. in drama in 1988 with a dissertation on the early works of August Strindberg.
Review of the Chamber Plays in the SF Weekly
By Lily Janiak, SF Weekly Oct 31 2012
The Cutting Ball Theater's production of Strindberg Cycle: The Chamber Plays in Rep has no shortage of headline-makers. It falls on the 100th anniversary of Swedish playwright August Strindberg's death. It marks the first time all five of Strindberg's chamber plays —The Ghost Sonata, The Pelican, The Black Glove, Storm, and Burned House — have been fully staged in repertory in one language. It's also by far the largest project the small, 13-year-old theater company has ever embarked upon. The five plays, all directed by Rob Melrose, involve 13 actors (including the celebrated James Carpenter), new translations by Paul Walsh, and partnerships with universities across the country to develop a dynamic new website
But one of the most interesting aspects of the production is a quieter one: the re-imagining of Strindberg's legacy.
Theater scholars generally regard three playwrights as the fathers of modern drama: Strindberg, Henrik Ibsen, and Anton Chekhov. According to Walsh, however, Strindberg is treated more like an "absentee father" because he was so ahead of his time. Strindberg, says Walsh, "was trying to figure out what it would mean to live in the 20th century" while his contemporaries, particularly Ibsen, were stuck in the 19th.
Melrose offers another reason for Strindberg's neglect. In the United States, "other than Shakespeare, every famous writer is only allowed two hits," he says, and Strindberg's "hits," Miss Julie and The Father, misrepresent his canon. Taken alone, they suggest a peddler of melancholy, an unrepentant misogynist, and a firm realist — the stereotype that inspired the notorious animated web series Strindberg and Helium, in which a pale, dour Strindberg shares his gloomy musings on life (and, more often, death), punctuated by high-pitched outbursts from a perky balloon.
The chamber plays, which Strindberg wrote in the few years before he died at age 62, showcase much more of the playwright's range. Burned House begins comically; The Black Glove is a warm Christmas story. They all "shift between reality and fantasy," says Melrose, "and always in really different ways." Many prefigure expressionism. Strindberg saw them as the chamber music to his symphonies, pared down explorations of themes he'd been interested in throughout his career: fluidity between life and death, rigidity between interiors and exteriors, the force of the past on the present, the interconnectedness of seemingly far-flung souls.
They are also called chamber plays because of their original staging at Strindberg's Intimate Theater. Built in Stockholm in 1907, the theater was intimate physically, at a mere 160 seats, and artistically. In these plays, says Walsh, Strindberg is "interested in moments of revelation of the secret self." "The light evenings make me shy," admits Storm 's central character.
Strindberg's original audiences might not have been ready for such confessions, which run across the chamber plays, contributing to the works' often unfavorable receptions. Cutting Ball is doing much to flesh out and complicate Strindberg's legacy. Walsh's new translations take that goal down to the letter.
In the Swedish, Strindberg's phrasings don't sound natural, says Walsh, and previous translations have often sought to smooth those out, transforming for example "a bottle of food coloring, the devil's elixir with scorpion lettering" into "soy sauce." While both Melrose and Walsh agree that there's no such thing as a literal translation, Melrose revels in what he calls "the challenge of the weird words." As Walsh sees it, "It's not my job to simplify and clarify." Rather, he seeks to "make [Strindberg's] curiosity and his strangeness as specific and opaque as they are in the Swedish."
Both Walsh and Melrose see their work as a repudiation of what Walsh calls "translating from the English," a recent trend in American drama whereby a scholar (or an underpaid grad student) writes what's supposedly a literal translation, which a playwright then adapts into playable, contemporary English. Such adapters, Melrose says, "are just sharing their idea of what [a work] is," or, as Walsh says, "how much they love the play." But, he adds, "Love is not enough to communicate with the subconscious of the text."
As textual psychoanalysts, then, Melrose and Walsh have five challenging but rewarding patients.