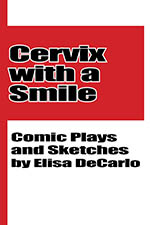 CERVIX WITH A SMILE
Comic Plays and Sketches
by Elisa DeCarlo $15 at Small Press Distribution and Amazon.com (wholesale distribution through Small Press Distribution Pubnet SAN #106-6617)
Over a dozen comic plays and sketches by alt-comedienne and downtown performance artist Elisa DeCarlo including "Cervix With a Smile," "Toasted," "I Love Drugs," Size Matters," and "Diary of a Mad Fashionista." Elisa has a unique comic voice developed over 20 years on the stages of alternative off-off-Broadway stages of downtown Manhattan and San Francisco's Tenderloin. A contemporary of Jim Gaffigan, Spaulding Gray and Eric Bogosian, her ferocious black comedy and stark drama have been informed by struggles with alcoholism, mental illness and industry sexism. This collection is a must-read for playwrights, actors searching for monologues, and readers who want to have a good laugh. "While many performers purport to take us to 'the edge,' when DeCarlo gets there, she actually has something interesting to say about it."—Off-Off Broadway Review
AElisa has written numerous award-winning theater shows including "Toasted,"" I Love Drugs," "Cervix With a Smile," and "Size Matters," which have been produced in New York, San Francisco and Chicago. Her show "I Love Drugs" was a Chicago paper's Critic's Choice in 1994, and "Cervix With a Smile" was a San Francisco Bay Guardian Critic's Choice in 2005. In 2008, the New York Times profiled her in 'Personality Plus' about her stage show developed around her popular humor blog "Diary of a Mad Fashionista."Her first novel, The Devil You Say (Avon, 1994) won both 'Locus Best First Novel' and 'Amazing Stories Best First Novel', and received the CaB Magazine Special Achievement Award. Its prequel, Strong Spirits, was published by Avon in 1995. Her most recent novel, The Abortionist's Daughter (2013) reflects her passion for women's rights, vintage fashion and theater while painting an elaborate portrait of New York City just before World War One.
Her humorous essays have been collected in the 2002 Random House anthology Life's A Stitch: The Best of Women's Contemporary Humor; Morrow Books' The Best of The New York Times's Metropolitan Diary; and Freedom Voices' Books Goddesses We Ain't.
Elisa has worked as a journalist, an audiobook abridger, magazine staff writer, actress, comic performer, and entrepeneur: for 10 years she sold plus-size vintage clothing online and privately.As an actress, Elisa's appeared in the popular soaps General Hospital, All My Children, and As the World Turns as well as small parts in films. She's written comic spots for NPR's All Things Considered and has performed comedy for most of her adult life, both sketch comedy and character monologues.
Raised in Westchester County, New York, Elisa lives in New York with her husband, Jeff, and a fair amount of animals.